F90 Essences
Your new complexion intensifier: F90 Essence infused with 90% probiotics
Applications are over
A COSMETIC ILLUMINATION IN SIGHT:
DISCOVER THE F90 ESSENCE SHINE INTENSIFIER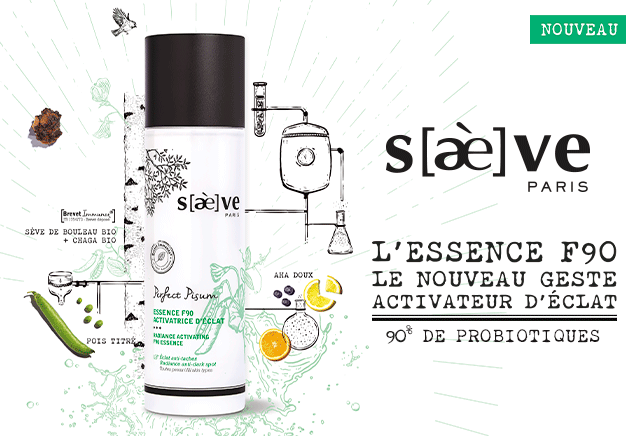 To give a new intensity to your skin complexion, Saeve has developed the Perfect Pisum Anti-Trace Shine Intensifier range with sweet pea extracts. Today the range is being expanded with an Active Essence which corrects, unifies and protects the skin. Inspired by the highly prised cosmetic waters in Asia, F90 Essence (and its 90% of natural ingredients) is the 1st essence which reduces all imperfections (traces, redness, acne) whilst still respecting the skin microbiota.
This care product promises to illuminate without damage, bringing an all-new shine to your complexion, eliminating dead skin cells and unifying the skin complexion, whilst reinforcing the hydration and protective skin barrier.
The F90 Essence Shine Intensifier formula is totally unique and formulated 90% from probiotics (Saccharomyces filtrate, a yeast from the mushroom family), which is particularly effective in naturally stimulating skin cell renewal and illuminating the natural shine of your complexion.
And, there is another botanical ingredient present (and not just any!): sweet pea. Added due to its illuminating power, it is also involved in adding shine and reducing traces on the skin!
Just as in all Saeve products, 90F Essence includes the Immunox® patent: made using fresh sap from the birch and organic Chaga (mushroom of immortality) it is an extremely powerful cocktail able to bring shine and youthfulness to every skin type.
Results of F90 Essence:
Brings new shine to your skin: 100%
Corrects all imperfections (traces, redness, acne) : 96%
Reduces traces: 91% of intensity: 96%
(Satisfaction survey percentage - 23 volunteers - 56 days of use)