FAST & SERIOUS AMPOULE SHEET MASK
Applications are over
1GARNIER SKINACTIVE
FAST & SERIOUS AMPOULE SHEET MASK
Ramadan is upon us! it's your chance to step back and connect with your faith, spend time with your family and to take a good care of your skin.
Fasting during Ramadan has endless benefits to your skin, hair, & immunity. However, inefficient in-take of water during iftar hours can cause skin dehydration which can lead to more severe skin concerns. When it comes to Ramadan Holy month, time is valuable as we usually ensure to spend more time with the family & friends.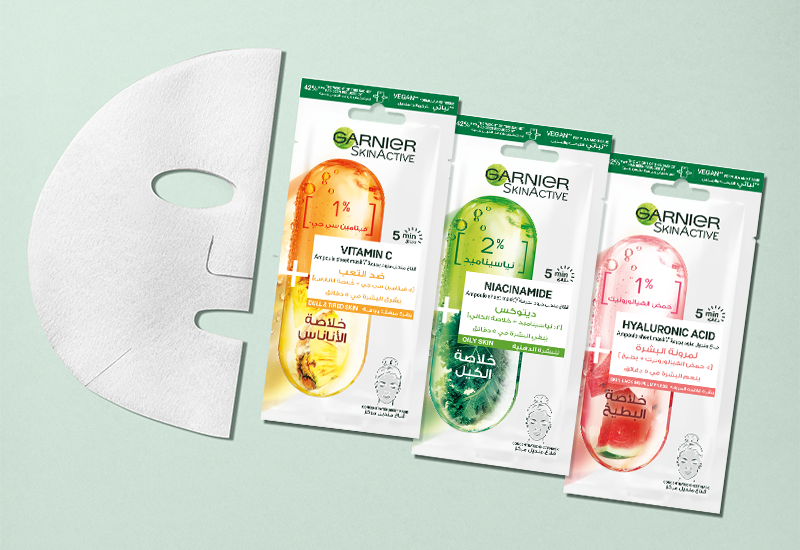 And that's why Garnier SkinActive is bringing to you its new "Fast & Serious Ampoule Sheet Masks", infused with the highest concentration in a mask to give you the fastest results, in only 5 minutes! Garnier Fast & Serious Ampoule Sheet masks are powered with superfoods & active ingredients to give your skin a boost for the best results! Not only that, but the Sheet Mask & Formula are both vegan!
Garnier SkinActive is offering 250 lucky ambassadors the chance to experience the Ampoule sheet mask!
What makes ampoule sheet mask different?
It is the first mask boosted with the power of a super ampoule to visibly transform your skin with effective & fast results in just 5 minutes! These ampoule-infused sheet masks are designed to satisfy 3 different skin concerns & give you a concentrated dose of serum exactly where you need it. Enriched with powerful pairings of skincare actives and natural-origin superfood.


Discover the 3 Different Ampoule Sheet Masks from Garnier:
1. FOR DULL & TIRED SKIN: Garnier Ampoule Sheet Mask with 1% Vitamin Cg & Pineapple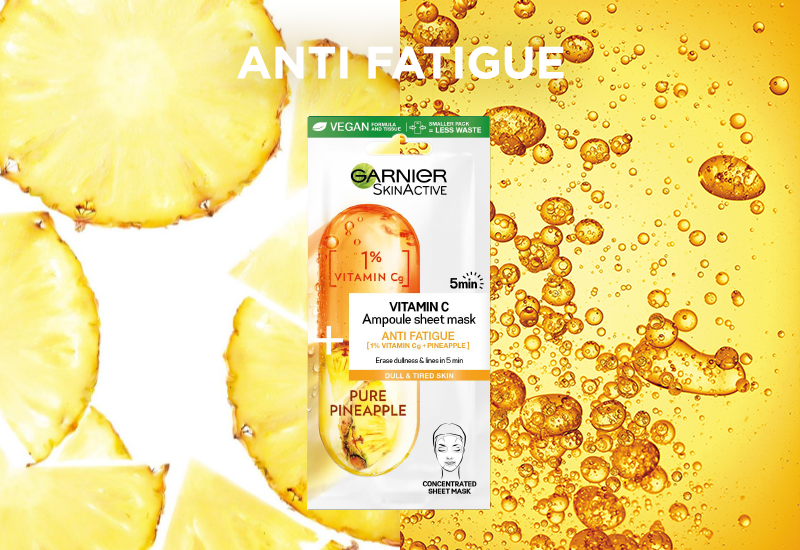 Anti fatigue
1. 1% Vitamin C + pineapple
2. Erase dullness, lines and reveal a healthy glow in just 5 mins
3. Brighten and re-energise your skin
4. For dull and tired skin that needs an extra boost of radiance
5. Vegan formula
2. For firming the skin: Garnier Ampoule Sheet Mask with 1% Hyaluronic Acid & Watermelon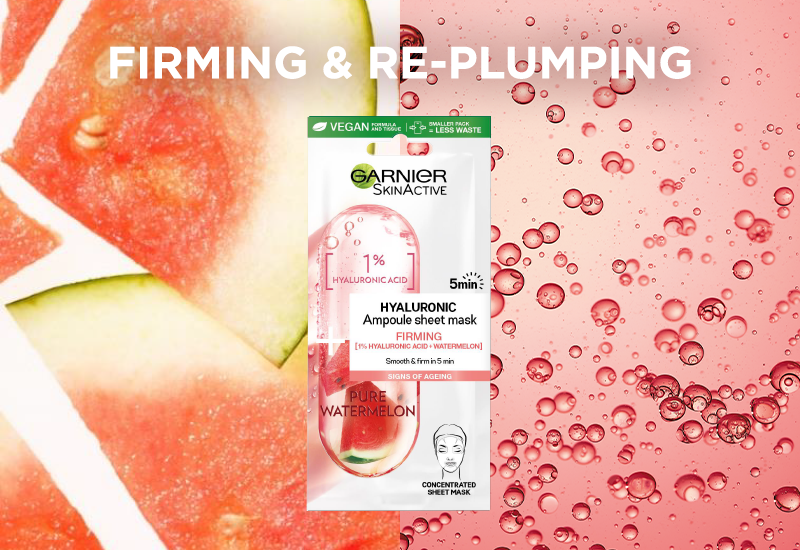 Firming & Re-plumping
• 1% Hyaluronic acid + watermelon
• Smooth & firm the skin in 5 minutes
• Hydrate and quench your skin
• Targets fine lines
• Vegan formula
3. For Detoxifying the Skin: Garnier Ampoule Sheet Mask with 2% Niacinamide & Kale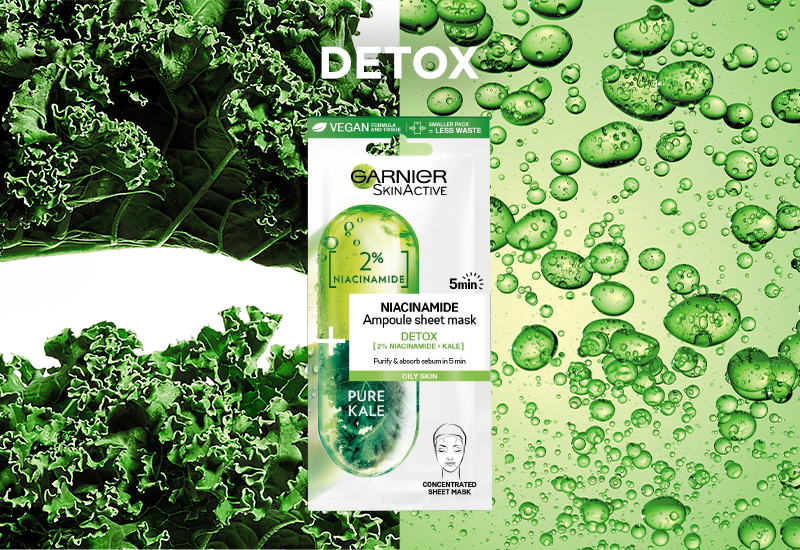 Detox


• 2% Niacinamide + Kale
• Purify and absorb sebum in 5 minutes
• Hydrating formula that rebalances dry and oily areas and leaves skin looking detoxified
• For oily skin
• Vegan formula


Key messages or Benefits
1. Highest concentration in a mask: active ingredients + superfood

2. Fast results in 5 minutes only! the benefits of formulas enriched with either Hyaluronic Acid, Vitamin C or Niacinamide working their magic on your skin in just five minutes

3. Sustainable: smaller pack: -42% of plastic, Alginate: fiber-based mask and vegan formula
You will be required to:
• Share photos or videos of your experience on your Instagram page mentioning the 3 products and choose your favorite one that suits your skin type (post before or after Iftar)

• Post content (Instagram post/tiktok/reel) twice a month to have the chance to win a prize
• TikTok users will share self-care tutorials
• Share photos or video of your experience with the products on Sampleo
• Mention in the captions and reviews how the tissue mask rescued and bring back your skin
• Share your rating & review of the Ampoule sheet mask on Nahdi and Sampleo Websites
• Post during Ramadan & Eid Time
غارنييه_قناع_ سريع_ و_فعال#
#GarnierAmpoulesSheetMasks
#GarnierFast&SeriousSheetMask
#GARNIERARABIA
Tag @GARNIERARABIA
One of the most exciting campaigns is coming to you in the UAE and KSA!
If you are selected, you will have the chance to receive 3 products of the Ampoule sheet mask!
Join now !!
Discover the best campaign photos