Belif "Aqua bomb" face cares
Discover the "aqua bomb" moisturising cream gel and the "aqua bomb sleeping mask" for a perfectly hydrated skin!
Applications are over
Discover the "aqua bomb" moisturising cream gel and the "aqua bomb sleeping mask"
for an intensely moisturised skin, both day and night!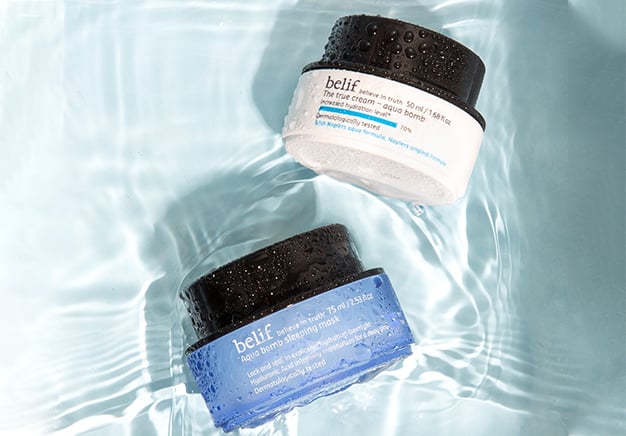 Recognised for their moisturising effectiveness, the Belif products have millions of fans in Asia and the USA since their launch in 2010.
Pure plant-based ingredients which are carefully selected, authentic formulas, textures which are strong on the senses and attractive: this is the Belif philosophy!
Belif offers you the chance to discover its two "moisturising bombs", the "Aqua bomb" moisturising cream gel, and the "Aqua bomb sleeping mask".
BELIF OFFERS YOU THE CHANCE TO DISCOVER ONE OF ITS TWO "AQUA BOMBS"
AQUA BOMB MOISTURISING CREAM GEL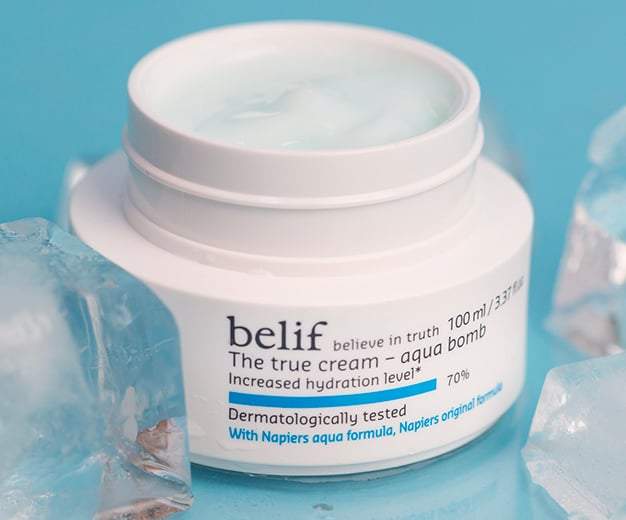 Classed as no. 1 in the most sold creams by Sephora in the USA*, the Aqua bomb cream gel is a genuine "moisturising bomb" with a very light texture which immediately melts and penetrates the skin. Perfect as a foundation for make-up!
Carefully selected plant-based ingredients
Comprising a mix of plants including alchemilla, rich in antioxidants, this product helps to neutralise free radicals, improves the elasticity of the skin and minimises pores.
It also contains the Aqua de Napiers patented formula (a cocktail of plants selected using moisturising properties: oats, marigold, special floral catnip, raspberry leaf, indigo lupin, chickweed).
Plantain banana extract in this formula reinforces the skin's hydration barrier.
The result? A light, soft and supple skin with a smooth touch!
After a consumer test led by our laboratories in South Korea, there was an increase in the skin hydration rate of 70% in just 1 hour!
*2016-2017
AQUA BOMB SLEEPING MASK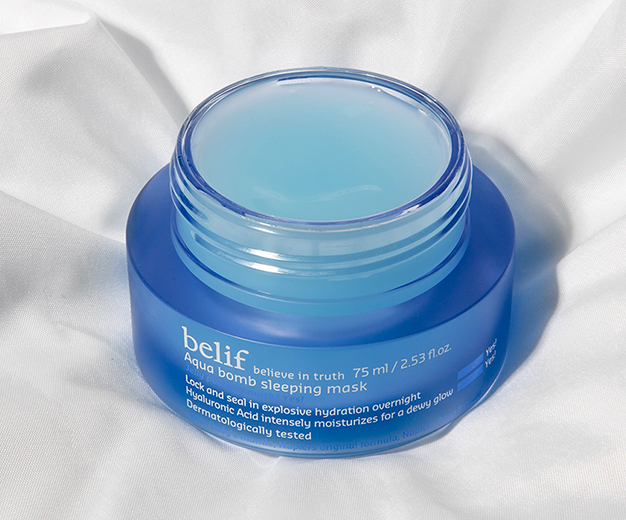 Our ultra-moisturising sleeping mask with its gel texture has a unique "shape memory" formula as it envelopes the skin with a protective layer for long-term hydration and softening and relaxing action during the night, without coming off on your pillow!
Born from our best-seller Aqua bomb cream, the Aqua bomb Sleeping mask "explodes" with intense and refreshing hydration, guaranteeing a shine to your complexion in the morning.
Active ingredients from traditional herbs
Scottish heather - A relaxing plant with anti-inflammatory properties.
Ultra hydrating Aqua de Napiers formula
This sleep mask is suitable for all skin types. It is particularly recommended for comforting, nourishing and deeply hydrating weary, dry and tired skin.
The result? When you wake up, your skin is softer, more supple and more shiny than ever.